) also uses AK-47's with STEEL-CASED ammunition - because M-16/M-4 & AK-47 style Galil rifles the regular IDF units use -
fire weaker Brass-Cased 5.56 & 7.62 NATO ammo & the harsh sand and Salt Water of the Red Sea dictated to IDF Squadron 13 Commandos to use only STEEL-Cased AK ammo & AK-47 Rifles for better reliability in the Amphibious Landing conditions they frequently encounter !!!
In 2009, the owner of AK47World.com (Daniel King) gave an interview to a Defense Magazine Reporter about the $200 Million Dollars the Pentagon was spending to buy Afghan & Iraqi Military Units 'Steel-Cased' ammo - as U.S. Ammo manufacturers don't seem to be interested in making what AK's NEED - 'Steel-Cased' AK ammo.
Although the reporter kept confusing 'steel-jacketed' with 'Steel-Cased' ammo, the article excerpt (below) illustrates WHY AK owners should DEMAND 'Steel-Cased' AK ammo for their Combloc Weapons & leave Brass-Cased ammo to AR-15's, Ruger Mini-14's & Mini-30's & other NATO weapons that don't tear brass cases like Combloc weapons do with their brutal - but efficient extraction systems !
http://theoldspeakjournal.wordpress.com/2010/07/01/outsourcing-security-defense-manufacturing-goes-the-way-of-the-automobile/

"To grasp just how much the US defense industry's loyalty to its own nation has eroded, take what Alliance TechSystems (ATS) has done to make a simple bullet.
ATS of Minneapolis (Federal Brand Ammunition) is the US military's largest civilian small-arms ammunition maker, and since 2008 has been awarded $200 million in American taxpayer dollars to deliver AK-47 rounds (7.62 x 39mm) to Afghan security forces.
Two-hundred million to make bullets sounds like a stimulus plan for American defense manufacturing. Yet ATK went on to "second-source" the contract to the former Soviet Union. ATK claims they had no choice but to go overseas, and offered only the following statement in explanation:
"There are no large manufacturers of non-standard, non-NATO ammunitions in this country," says ATK spokesperson Amanda Covington. "There are only small manufacturers."
But Dan King, who runs AK47World.com, a Web site that's all things about the assault rifle used widely by the Communists during the Cold War, believes ATK is deliberately obfuscating.
He says the phrase "non-standard non-NATO ammunition" – when applied to AK-47 rounds – can be simplified this way: it is an AK-47 round made with a steel casing or a steel jacket. ATK actually makes a 7.62 x 39mm round here in the US, but only in a brass casing; it's available at Wal-Mart.
The reason NATO desires a steel jacket (should've said 'steel-case') is that Afghan forces fighting the Taliban refuse to fire brass-jacketed (should've said 'steel-cased') AK-47 rounds. They argue the brass jacket has made a few AK's overheat and breakdown. But all ATK really needs to make steel-jacketed (should've said 'steel-cased') 7.62 x 39mm rounds here in America, says King, is to purchase some new (steel) round-making presses, order some steel and lacquer, and hire more employees to make several million rounds.
And ATK, with $3.5 billion in sales in 2007, seemingly has the means. Especially when they were awarded another $52 million in 2008 to upgrade their Missouri-based Lake City Army Ammunition Plant.
"We get money to modernize our [ammunition manufacturing facilities] all the time," says Covington, the ATK spokesperson.
The statement prompts King to say, "I guarantee they [procurement officers at the Pentagon] are going to pay too much for this ammo. These people are famous for this."
///////////////////////////////////////////////////////////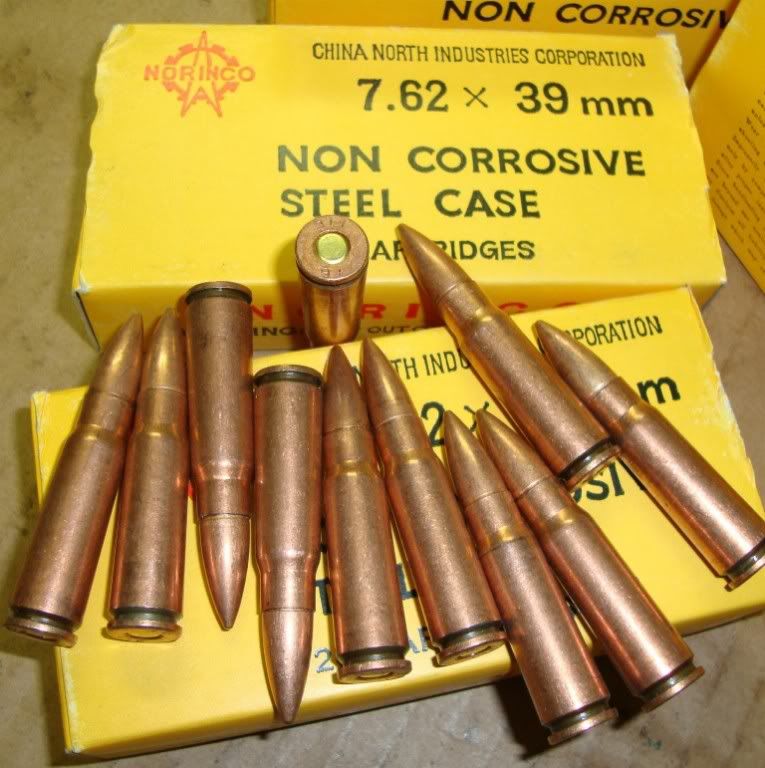 Chinese 'Yellow Box' STEEL CORE - STEEL Case 'Non-Corrosive' AK-47/SKS Ammo (Early 1990's IMPORT) - '

Clearance Priced

' as Wal-Mart wants $18 + tax for Wimpy 'Brass-Cased' AK-47 Ammo tears EASY in Rapid-Fire AK use - $15 + shipping per 20 round box. !!!

Phone # (720) 940-1458